OUR MISSION --------
The Santa Cruz Valley Bicycle Advocate Committee (SCVBAC) developed from the Green Valley Community Coordinating Council (GVCCC) Bicycle & Pedestrian Committee. We expanded our geographical scope in 2006 to the Santa Cruz Valley, roughly the region from the south end of metropolitan Tucson through Sahuarita, Green Valley, and Tubac to Nogales. This change recognized our focus on bicycling and the need to cycle throughout the region without regard to jurisdictional boundaries
We are dedicated to seeing continuous improvements made in bicycling safety and enjoyment, and the promotion of bicycling as healthy recreation and alternative transportation. Therefore we work with the communities and various organizations in the region such as: GVCCC (we are a subcommittee of the GVCCC Traffic & Arroyos Committee), the Town of Sahuarita, the Tucson-Pima County Bicycle Advisory Committee, the Greater Arizona Bicycle Association, and with government agencies such as: Pima County DOT, Arizona DOT, and Pima Association of Governments.

---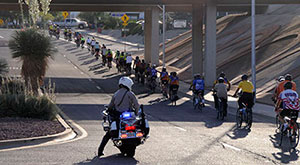 Photos from May 17
GV News - Ride to Remember - May 17, 2013
GV News - GV Cyclists Plan Ride to Remember - May12, 2013
Quail Creek Crossing - April 2013
---

RIDE OF SILENCE - May 16, 2012

GV News - Quiet Honor - May 20
GV News - A Ride to Remember - May 13
Photos by John Weakly
Photos by Justin St. John
KGVY Community Quarterly - April 2012
Quail Creek Crossing - April 2012
Trade Winds - May/June
tucson velo

---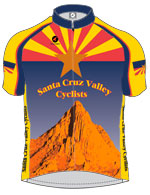 Now available at......
Green Valley Bike & Hike
The Green Valley Bike Hub
Posada Java
Questions to bikejersey@cox.net